Skincare Charlie
Nov 19
Sensitive Eyes and Skin? Eye Makeup 101
Eye make-up products are developed to pose a minimal risk of irritation or allergy. There are specific ranges for "sensitive eyes". The most important thing is to thoroughly moisturize the area around the eyes before applying make-up, and to carefully remove eye make-up with gentle products adapted to this part of the face. The formulation of eye products is quite different from foundations. Eye shadows have a high pigment content (zinc oxide and titanium oxide) for maximum coverage which can make them irritating. Mascara and eye-liner may be in contact with the eye and require a specific formulation. They contain waxes and gelling agents. In the case of eyelid inflammation, make-up should be avoided. However, over time allergenic components (rosin, kathon, etc.) have been removed from make-up products. On the other hand, eczema on the eyelids would point to an allergy caused by contact with a nail varnish or an airborne allergen: spray-on perfume, hair lacquer, plant elements or pollen, etc.
Oct 08
[video]
Oct 04
"If that doesn't make you feel old, I don't know what will," he said as he pointed out Pong at the Bolo Museum 
Image by Yves Bolognini
(Source: it8bit)
Oct 03
How to Be Productive

The Mindmap of 35 Habits of the Uber-Productive.
(via wilwheaton)
Fortunately the Milk: Gaiman's kid-novel is a tribute to fatherly trolling -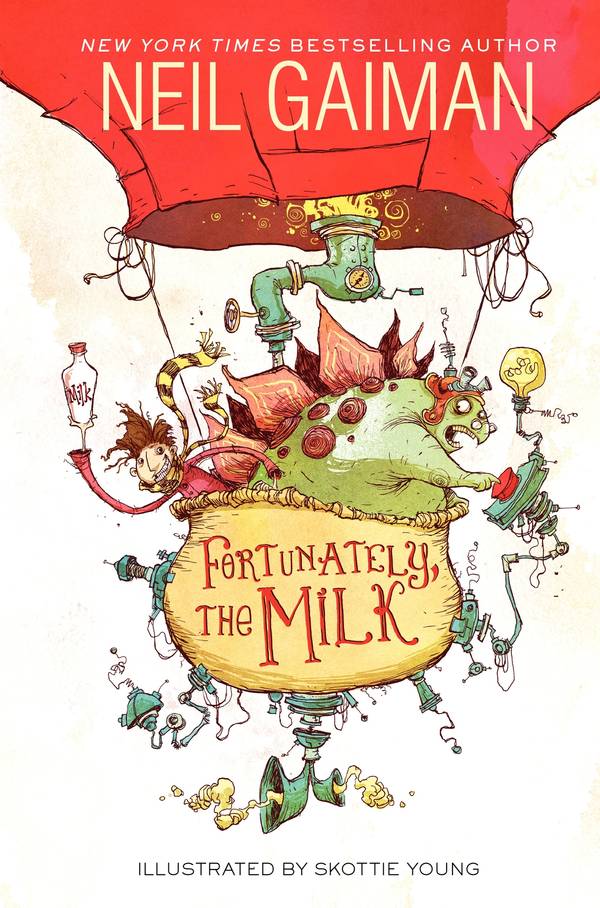 Neil Gaiman's illustrated children's novel Fortunately the Milk is a magnificent tribute to the fatherly art of trolling kids with straightfaced, outlandish tales. It's narrated by a boy whose mother is away on a business trip, and whose father had to go out to the corner store for a pint of milk for the cereal and his tea. Dad takes an unconscionably long time getting the milk, and when he returns, the narrator and his little sister accuse Dad of having stopped to gossip at the store. Not so, insists Dad, who proceeds to explain exactlywhat happened while he was out getting the milk.
It's an astounding tale, starting with an alien abduction, moving swiftly onto a space-time journey to the ship of a vicious pirate queen and a near-death plank-walking, a daring rescue by a time-travelling dinosaur scientist in a hot-air-balloon time machine, and thence through interference with a pre-Colombian human sacrifice, and many, many other adventures, including several involving temporal paradoxes.
(Source: mostlysignssomeportents)
How to Fix Under Eye Dark Circles
Dark Circles under the lower eyelids are very troublesome, detract from appearance, and impart an aged look on people. In fact dark circles under the lower eyelids may be the most common concerns clients present with to a skincare specialist (dermatologist, oculoplastic surgeons, or aestheticians.).
Why do dark circles under the eyes develop? Well, there are a variety of causes:
First-prominent, puffy eyelid bags above can allow a shadow to be created which can impart a dark appearance below.

Second-pigment cells in the skin (melanocytes) can be overly active causing darkening.

Finally-the muscle under the thin eyelid skin and blood vessels in the same area often appear dark. When the skin is thin enough this darkness can become apparent.
Dr. Richard Anderson, Center for Facial Appearances, is an oculoplastic surgeon (eyelid surgery) expert, who has a particular interest in reducing dark circles around the eyes. The best treatment depends on the primary cause and this can be identified upon evaluation in the office. If eyelid dark circles concern you please contact Dr. Anderson at his office (801) 363-3355, or through his web site.
Sep 07
While the effects of aging can't be reversed, maintaining proper care can help keep skin healthy. Here is some helpful advice on how to treat aging skin

• Opt to shower or bathe every other day to avoid dry skin. Take a sponge bath on alternate days, cleansing gently with moisturizing soap or detergent-free cleansers that do not need to be rinsed. Such cleansers do the job of removing dirt and natural oils but don't impact the natural acid balance of mature skin.

• Apply moisturizer on a daily basis. Advanced skincare products that nourish the skin from the outside and deliver amino acids, vitamins, antioxidants and ingredients that are gentle and soothing make skin stronger and more resilient.
• Stay out of direct sunlight as much as possible. To protect your skin from harmful UV rays, the American Cancer Society uses a catch phrase that can help you remember some of the key steps to protect yourself when going out in the sun: "Slip! Slop! Slap! And Wrap!" Meaning, "Slip on a shirt. Slop on Sunscreen. Slap on a hat. And Wrap on sunglasses to protect the eyes and sensitive skin around them."

• Good nutrition and adequate fluids are especially important for older adults in the hot summer months. Dehydration increases the risk of skin injury.

• Take care to avoid injuries that can cut or tear fragile skin or caustic substances that can disrupt the skin's protective barrier. Cover small wounds with band aids made for sensitive skin, so as not to cause added injury when removing after wounds have healed.

• Diabetics are more prone to bacterial and fungal infections and itchy skin. Protecting the skin, especially on extremities, is essential.

• Avoid alcohol-based astringents, strong bacterial soaps and products that are harsh and damaging for older skin. Hand-sanitizers can be especially drying and using a hand moisturizer afterwards can be important.


somewhereinaburstofglory asked: Hello! I have 2 questions. One - I have faded (white) stretchmarks on my stomach and on the side of the breasts and arms. I've tried Retin-A, Bio-Oil, etc. etc. but I was wondering if you knew of any more effective methods to get rid of them? Two - I used apple cider vinegar to remove a birthmark/flat mole in between my eyebrows, but I left it on too long and it took a few extra layers of skin with it, leaving an indentation in the skin. How can I heal this quickly/raise the skin? (Retin-A?)
I'd recommend you see a dermatologist or a skin care professional in person. Without seeing you directly I would be concerned about giving you specific advice. Good luck!
Jul 28
Surgical Aesthetics
Face-lift patients have great expectations for their surgery outcomes, but not all aging concerns of the face can be addressed with lifting alone. By combining surgery with pre- and post-operative skin care and thorough patient education, surgeons are finding that they can achieve better patient satisfaction and optimal, longer-lasting results.
Because facelifts address only the effects of gravity and loss of elasticity, surgeons often offer adjunct treatments to address additional concerns, including poor skin texture, pigmentation problems and fine lines.
"This is [an area] where understanding skin types and skin care is very advantageous," says Gabriel Chiu, MD, owner of Beverly Hills Plastic Surgery in California. "You can prepare the patients and manage their expectations as to the recovery and the healing process based on their individual skin type and condition. Just like some people can't exercise on their own and may need a trainer, estheticians play an important role in consulting and treating my patients to correct their skin problems," says Dr. Chiu.
Claudio Pinto, master esthetician and board member of the Society of Plastic Surgery Skincare Specialists (www.spsscs.org) also recommends light chemical peels prior to facelift procedures. "Chemical peels are great because the patient sees very good improvement right then and there," he says. "The other thing we always try to incorporate is Retin-A. The dose and concentration depends on the condition of the patient's skin. The thicker the skin, the more aggressive you can be. For sensitive skin, you have to be a little more gentle."
Pinto performs the chemical peel first in order to improve the penetration of the Retin-A. "If the patient has some hyperpigmentation, we use some hydroquinone," he says. Pinto has patients stop the Retin-A about three days prior to surgery. "Because the skin can be more sensitive," he says. "The other thing we do is have the patient continue with the Retin-A postprocedure, because it will help with the healing, and the condition of the skin will continue to improve." Patients who undergo a full facelift wait a month after surgery to restart the Retin-A. For Lifestyle Lifts, he recommends that patients wait two weeks.
Jul 27
[video]
yeah buddy! he gets it.
(via reasontobebrave)
[video]
Jul 09
[video]
Jul 05
(via reasontobebrave)
(Source: , via adventureisouttherego)